Fashion
Emma Stone on Marie Claire September 2017 Cover
Actress Emma Stone lands the September 2017 cover of Marie Claire US. Lensed by Greg Kadel, the blonde stunner wears a Dior dress, hat and earrings. For the accompanying spread, the 'Battle of the Sexes' star charms in looks from the fall collections. Emma poses in pretty outfits featuring the designs of Chanel, Valentino, Bulgari and more.
COVER SHOOT: EMMA STONE STARS IN MARIE CLAIRE SEPTEMBER 2017
Actress Emma Stone poses in Valentino dress
EMMA STONE ON PLAYING BILLIE JEAN KING
In her interview, Emma talks about what it was like playing Billie Jean King in 'Battle of the Sexes'. "I have never really considered the physicality of a person or of a character. Maybe because I hadn't played a real person – there wasn't someone who looked a specific way or whose hands moved in a certain way. So that was what I focused on more than anything: building from the outside in."
Lounging in style, Emma Stone wears striped Chanel dress
Fashion
Jessica Biel on Marie Claire August 2017 Cover
Actress Jessica Biel rocks denim on the August 2017 cover of Marie Claire US. Photographed by Txema Yeste, the brunette stunner wears an one-shoulder Mugler bodysuit with embroidered jeans from Dolce & Gabbana. Inside the magazine, Jessica wears fashion forward styles from the latest collections. Whether posing in an Emporio Armani blazer or Saint Laurent top, the 35-year-old looks like a true fashion plate.
COVER SHOOT: JESSICA BIEL STARS IN MARIE CLAIRE AUGUST 2017
Actress Jessica Biel wears Emporio Armani blazer with La Perla bra and briefs
JESSICA BIEL ON HER RELATIONSHIP WITH JUSTIN TIMBERLAKE
In her interview, Jessica talks about what makes her relationship with Justin Timberlake work. "We have similar values [and] we believe in loyalty, honesty. We like to have fun." She continues, "We like a lot of the same things. Also, in the business, we're all very career-oriented, and you have to be a little selfish. I understand that about my peers—about being focused and driven—and if you can find that and someone who shares the same values as you, it's like: Score!"
Jessica Biel poses in Saint Laurent top and jeans
Flaunting her figure, Jessica Biel wears leather top and skirt
Actress Jessica Biel wears an embellished dress in this shot
Fashion
Angelina Jolie's role of Lara Croft from 'Tomb Raider' called for an aristocratic look. With riding pants and a button-up blouse, she looks so equestrian chic.
When you think about equestrian style, you may picture the quintessential Ralph Lauren woman. A beauty that's not afraid to get her hands dirty, she wears form fitting pants, buttery soft leather boots, and a slim blouse. Alternatively, you may recall Angelina Jolie in Tomb Raider. Portraying Lara Croft, an avid equestrian, Jolie was an inspiring vision. In addition to her khaki pants, blouse, and riding boots, Jolie wore a sleek leather coat.
A GUIDE TO EQUESTRIAN STYLE
We may not all be Jolie, but we can cut a sharp figure in an equestrian-inspired look. If the aesthetic appeals to your style sensibility, it's quite easy to apply elements of the classic motif to your everyday wardrobe. A wide array of fashion brands embrace equestrian chic looks for a sporty but polished approach to prep style. Some labels that come to mind include J.Crew and Massimo Dutti. The latter regularly produces an equestrian collection with all the right essentials. The Spanish label meets all the ideal style goals. Massimo Dutti's collections regularly include tailored jackets, riding boots, skin-tight pants, smart polos, and classic blouses.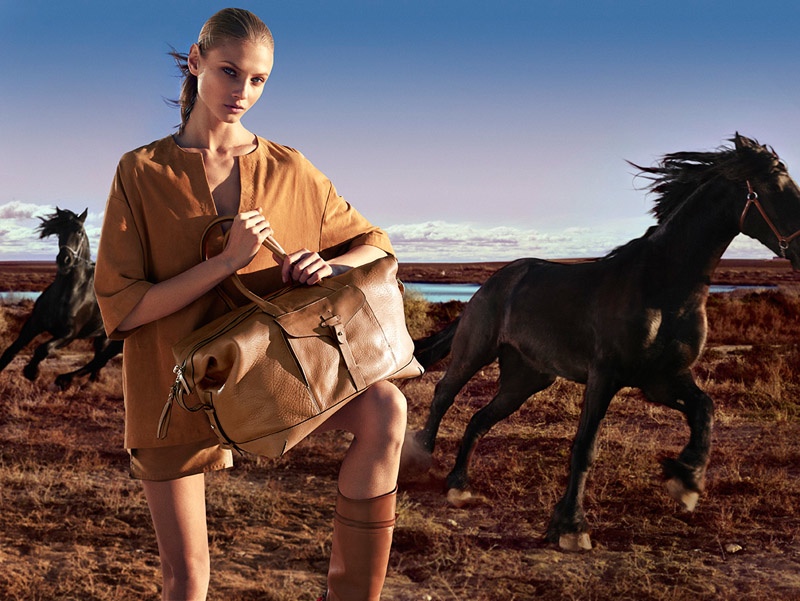 Anna Selezneva models a large tote, riding boots and a oversized shirt from Massimo Dutti.
Leather riding boots are easily a key component to any equestrian look. Covering the calfs, the statement boot looks fantastic worn over a pair of tight fitting pants. This is one of those moments, when you want your pants to be near skin tight. If you're working with a long jacket or blouse, leggings may even be a welcomed addition to your equestiran outfit.
MODERN EQUESTRIAN STYLE
Although equestrian style includes a number of essentials, there's plenty of ways to break away from the traditional standards. Leather inspires the modern equestrian narrative. You can add an element of strength to any wardrobe with the use of leather. Now designers embrace use the luxurious material for belted skirts, laced-up tops, and covetable coats. You can also achieve equestrian style in the simple details. Pants or even a bag with lace-up details can really add a stylish pop to any ensemble.
Liu Wen for Massimo Dutti Equestrian Fall/Winter 2014 campaign
Hair can also play a role when perfecting the ideal equestrian look. A sleek tight ponytail or a tousled hairstyle can work wonders. Reaching for your eye shadow for the day, you may even want to attempt a smoky eye. Round it out with a dark lip or dusty tone. On the opposite end of the spectrum, you can create contrast with a glam beauty look for the day. Here, hard and soft work well.
We've covered a lot of details that go into equestrian looks. However, it's important to remember that at the end of the day, fashion is about having fun. You can take into consideration our tips and come up with your own interpretation. After all, it's not like you're actually going horse riding. Funny enough, you could bet on your favourite horse at William Hill instead.
Fashion
Instagram superstar Emily Ratajkowski lands the August 2017 cover of Glamour UK. Photographed by David Slijper, the 26-year-old poses in a jacket from The Kooples, Frame sweater, Sessun shorts and Marques ' Almeida earrings. Inside the magazine, Emily shows off her edgy side in cool girl looks with a grunge twist. Fashion director Natalie Hartley dresses the DKNY face in the designs of Ellery, Preen by Thornton Bregazzi, Maison Margiela and more.
Fashion
Ophelie Guillermand stars in ELLE France's June issue
Leading model Ophelie Guillermand looks cool for the summer in the June 16th, 2017 isssue of ELLE France. In front of the lens of Mel Karch, the French model poses in hippie inspired fashions with a seventies flair. Stylist Tamara Taichman dresses Ophelie in a mix of printed blouses, minidresses and wide-brimmed hats for the editorial.
EDITORIAL: OPHELIE GUILLERMAND STARS IN ELLE FRANCE JUNE 2017
Model Ophelie Guillermand poses in hippie inspired looks for the fashion editorial
Publication: ELLE France (June 16th, 2017)
Title: Psyché Délice
Photographer: Mel Karch
Stylist: Tamara Taichman
Hairstylist: David Delicourt
Makeup: Tiina Raivainen
Model: Ophelie Guillermand
Fashion
Chrissy Teigen on Marie Claire July 2017 Cover
Supermodel Chrissy Teigen graces the July 2017 cover of Marie Claire US. Lensed by Michelangelo di Battista, the 31-year-old poses outdoors in a Gucci dress with Van Cleef & Arpels earrings and a Cartier ring. Inside the magazine, Chrissy looks bohemian chic in romantic styles from the designer brands like Valentino, Chloe as well as Tiffany & Co.
COVER SHOOT: CHRISSY TEIGEN STARS IN MARIE CLAIRE JULY 2017
Model Chrissy Teigen looks like a nature girl in Gucci dress
CHRISSY TEIGEN ON EXERCISE
In her interview, Chrissy talks about how she is not a fan of working out. "I know I should exercise for mental reasons…I need to see Simone De La Rue; I always feel great after I see her. In L.A., there's never any f***ing parking. So for someone who doesn't already love working out, nothing's selling you on it."
Looking western chic, Chrissy Teigen models Valentino dress and Stetson hat
Flashing a smile, Chrissy Teigen models Chloe coat and dress with Tiffany & Co. earrings
Chrissy Teigen poses outdoors in fur and knitwear
Chrissy Teigen poses outdoors in the fashion shoot
Categories

New Posts

Hot Posts